Texas businesses need Texas-size love now, more than ever.
It's estimated up to one million service industry jobs could be lost in Texas as part of the effort to slow the spread of COVID-19 – potentially 25% of Texas restaurants may forced to shut their doors permanently.
This unintended consequence likely impacts every Texan in some way.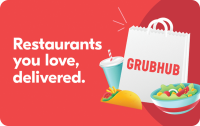 We're sending a GrubHub Gift Card with every new service set-up through April 15th
Switch or set up service with Southern Federal as your home's electricity provider, and we send you a GrubHub Gift Card, no strings attached.
A great electricity rate for you, a little love all around.
We recognize this small effort will not immediately help those who are already impacted by this "new normal" but, we hope to help bolster a shaken service industry that plays a hyper-local role in the lives ofTexas business owners, employees, and our community.
#OpenForDelivery    #ShopLocal    #TexasStrong
We will send a GrubHub Gift Card to each customer who elects new electricity service with Southern Federal through April 15th, 2020.
How do I start new electricity service?
Begin by choosing a plan here. You may select any term or product we have available.
How will I receive me GrubHub Gift Card?
We will send a claim link to the primary account holder's e-mail address on file approximately 3-5 days after we receive confirmation of your new electricity service.
What if I don't have a GrubHub account?
You can open a free GrubHub account here.
What is the value of the GrubHub Gift Card?
Customers who select term less than twelve months will receive a $5 claim code. Customers who select a term of twelve months or more will receive a $15 claim code.
What if I don't want a GrubHub Gift Card, can I get something else instead?
No substitutions will be offered, please feel free to forward the claim link e-mail to someone who would appreciate your generosity!