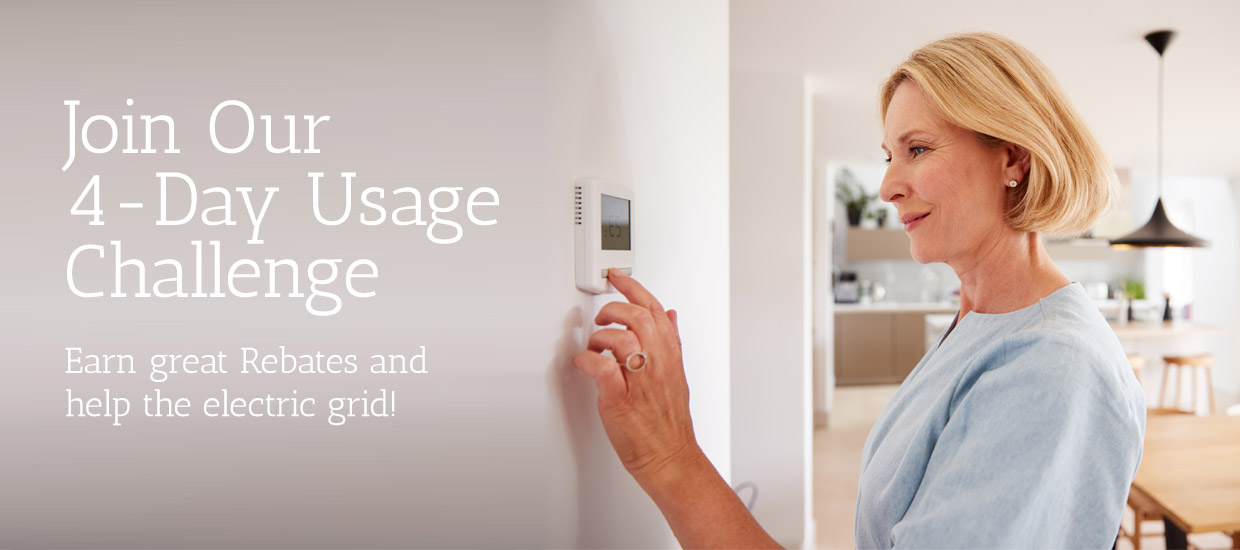 Do Your Part To Help The Electric Grid!
Southern Federal is offering daily conservation goals to keep your next electric bill in check during this historic winter storm.
The 4-Day Usage Challenge
From February 13 to 16, 2021, Southern Federal is offering customers daily conservation challenges to keep bills low during this historic winter storm.
The state of Texas is experiencing an unprecedented winter weather event unlike any in recent memory. Our customers are encouraged to, above all, stay safe and vigilant of the cold weather moving its way across the state over the next 48 hours.
With this, many of our customers may unexpectedly receive power bills higher than usual over the next month with the increased usage.
Rebate Bonus Offer
Use 5% Less Power Today than you did the previous day, and get and get a $10 Bill Rebate from Southern Federal.
Every Little Bit Helps
The Texas electricity grid will experience additional stress with the low temperatures. We are asking that our customers be mindful of their electricity consumption over the next 72 hours.
By adjusting your thermostat a few degrees, using a gas fireplace where accessible, and avoiding heavy use of electric appliances, you can do your part in impacting the entire Texas power grid in a positive way. You can save a lot too!
Given the prolonged, below-freezing temperatures, conservation measures should be implemented safely and within reason.
SoFed Electricity Usage Challenge
Each SoFed customer is qualified to receive $100 or more in electric bill rebates over the next few days by meeting individual daily consumption goals. Simply keep your usage below your home's usage goal and you will qualify for the rebate. Consumption goals are emailed daily, so please watch for them in your inbox.
Here Are 6 Easy Tips To Reduce Electricity Use
1) Turn down thermostats to 68-degrees.
2) Close shades and blinds to reduce the amount of heat lost through windows.
3) Turn off and unplug non-essential lights and appliances.
4) Avoid using large appliances (i.e., ovens, washing machines, etc.).
5) Businesses should minimize the use of electric lighting and electricity-consuming equipment as much as possible.
6) Large consumers of electricity should consider shutting down or reducing non-essential production processes.
How To Track Your Power Usage
All Southern Federal customers have 24/7 access to our free customer portal. You can use your MySoFed account to track your home's daily power usage, calculate your next bill, and manage your account.
Login To Your MySoFed Account Here >
Rotating Outages
If you experience an outage, please contact your Transmission and Delivery Utility Company (TDU). Below are the 24/7 hotlines for each Texas utility:
• ONCOR: 1-800-332-7143
• Centerpoint: 1-800-313-4747
• AEP: 1-800-223-8508
• Texas New Mexico Power (TNMP): 1-888-866-7456
ERCOT has the tools and procedures in place to maintain a reliable electric system during tight grid conditions. If power reserves drop too low, ERCOT may need to declare an Energy Emergency Alert, or EEA. Declaring an EEA allows the grid operator to take advantage of additional resources that are only available during scarcity conditions. There are three levels of EEA, and rotating outages are only implemented as a last resort to maintain the reliability of the electric system.
We're Here To Help
You may receive more alerts than usual over the next few days to help manage your usage. These alerts are intended to inform you of peak usage and consumption increases related to your account. If you have any questions regarding these alerts, please contact our Customer Agents at 1-844-644-0474 Monday to Friday 8am-6pm.
We sincerely appreciate your choice to make Southern Federal Power your Texas electricity provider.
---
*Southern Federal Power will issue a bill credit if the meter usage for the account does not exceed a total combined usage of your "Usage Goal" from the period beginning 12:01 am on 02/12/2021 through 11:59pm on 2/19/2021. All credit issued will be in the form of a bill credit that can be found in the billing details on the customer's monthly billing statement within sixty (60) days of the campaign ("SoFed Winter Blast Challenge") end date of 02/20/2021. Your contract price for electric service will not change if your usage exceeds the "Usage Goal". In the event of rotating outages or other events beyond our control that may alter a customer's usage, Southern Federal reserves the right to modify the terms of the offer.